Technolit Großenlüder
---
Painted and illuminated staircase cladding with W.S. Tyler Architectural Mesh EGLA-TWIN 4253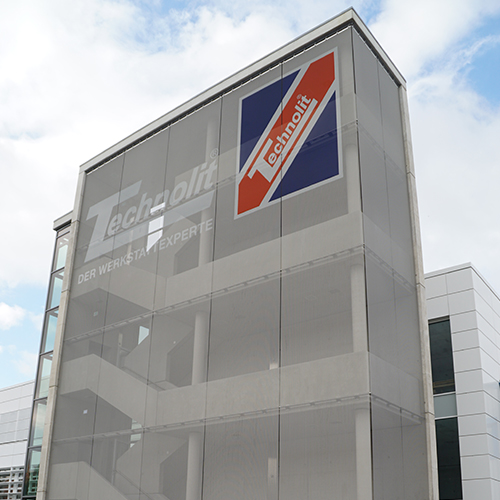 ---
---
Description
The new building extension of Technolit GmbH, the welding and workshop expert in the town of Großenlüder, received a façade cladding with W.S. Tyler Architectural Mesh to visually enhance the optical appearance of the external staircase.
Due to the fact, that the staircase should be used as a recreation area for the staff as well, the architects Staubach + Partner searched for a façade cladding that is visually appealing and ensures optimum air circulation.
The architects decided on a semi-transparent wire mesh by W.S. Tyler. The chosen W.S. Tyler Architectural Mesh EGLA-TWIN 4253 with its smooth surface on one side reflects light homogenously. To enhance the public image of the company, the wire mesh cladding received a painted logo and special lighting effects. 11 LED-Liners are positioned at the base of the mesh cladding to illuminate the mesh façade. Only one LED-Liner is necessary to illuminate the total height (17m) of the façade.
W.S. Tyler supplied 276 m² ready to install mesh elements with painting and arranged the wire mesh assembly with the commissioning and the programming of the wire mesh illumination.