Mandarin Oriental Hotel
---
Featuring an awe-inspiring herringbone pattern
Located in the center of Msheireb in Downtown Doha, Qatar, the Mandarin Oriental Hotel is a luxury hotel that features a Spa area where visitors can relax. To create a sense of privacy, the spa area is equipped with room-high privacy screens that are constructed out of stainless steel architectural mesh.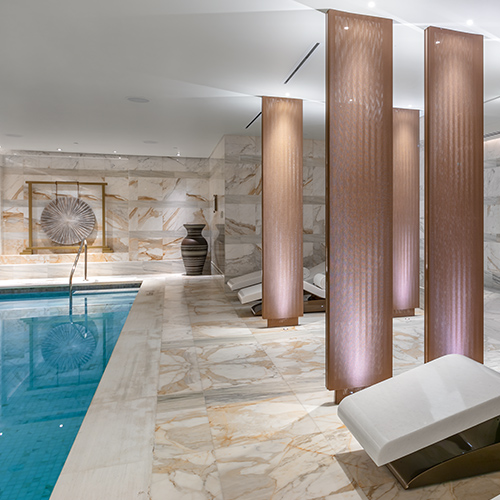 ---
---
Description
The lustrous qualities of architectural mesh allow for unique lighting reflection and color effects that helped facilitate this elegant yet discreet design. For added feng shui, a lacquer finish was applied to the mesh used in this project. But other finishes can be applied based on the needs of your project. 
Featuring an awe-inspiring herringbone pattern, W.S. Tyler's ALTERNA 6012 was used to construct the privacy screens. For this application, special mounting was employed. With a semi-transparent look, the mesh, which covers the frame in its entirety, provides a one-of-a-kind accent to the room.  
This project featured 12 covered frames and the mesh itself was painted. With dozens of mesh types, various finishing options, and customizable mounting the only limitation to architectural mesh is your imagination.