Energy City
---
W.S. Tyler's MULTI-BARRETTE 8301
Located between the commercial and residential areas of the Dafna coastal region and Lusail development district of Qatar, Energy City is the region's first business center that focuses on the hydrocarbon industry. Architectural mesh not only provides the durability needed to ensure visitor safety, but it provides a unique aesthetic that creates an unforgettable atmosphere.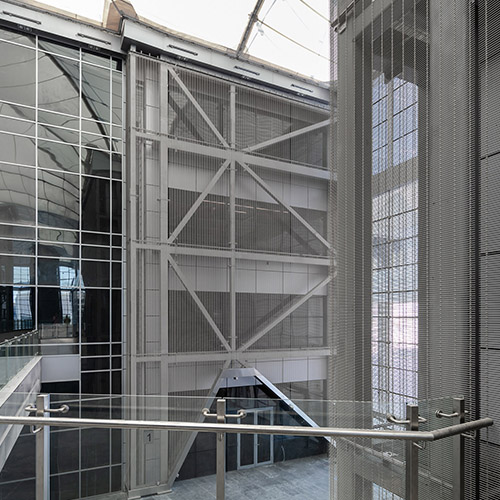 ---
Gallery
©Photo: N. Kazakov
---
Description
W.S. Tyler's MULTI-BARRETTE 8301 was used to cover a wall within the structure. The unique qualities of architectural mesh allow the mesh to serve as a transparent veil that matches the industrious look of the rest of the structure. 
This project is the perfect example of how customizable architectural mesh really as W.S. Tyler provided over 32.3 square feet of ready-to-install mesh paneling unique to this project. Custom shapes and slopes were fabricated into the mesh to accommodate the unique openings. 
Specialized mounting hardware was also included to ensure the system was safely secured.