Al Sendian Tower
---
Ornamental car park facade made from W.S. Tyler Architectural Mesh.
As with most parking garage structures, the parking garage of the Al Sendian Tower needs to maintain a controlled amount of airflow. To ensure an adequate amount of natural ventilation, W.S. Tyler's EGLO-MONO 4791 was applied as an exterior facade that covers the four-story parking garage of the Al Sendian Tower.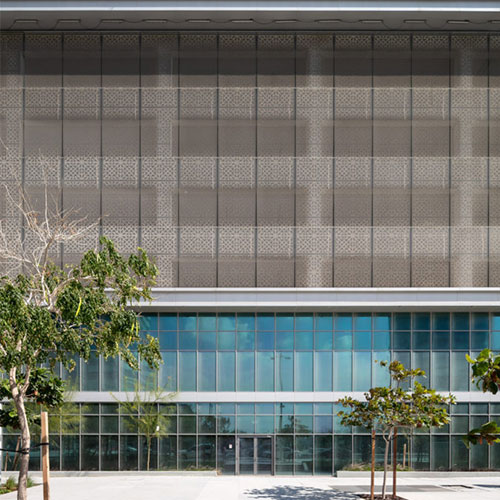 ---
Gallery
©Photo: N. Kazakov
---
Description
With an open area of 60%, EGLO-MONO eliminated the need for costly ventilation systems that drive energy expenses. The open area of the mesh also allows the parking garage to be illuminated by natural light, further reducing energy costs.
EGLO-MONO 4791 is constructed from durable, corrosion-resistant stainless steel. This durability allows the facade to serve as a fall protection solution that will keep visitors safe.
This project encompasses the convenience of a ready-to-install system. It included 27.3 square-feet of full-length painted wire mesh panels and mounting hardware.