Höffner Fürth
---
Façade cladding with W.S. Tyler Architectural Mesh DOKAWELL-MONO 3601
The architects from Beier Baudesign GmbH used stainless-steel mesh from W.S. Tyler as façade cladding on the rear side of the shop building.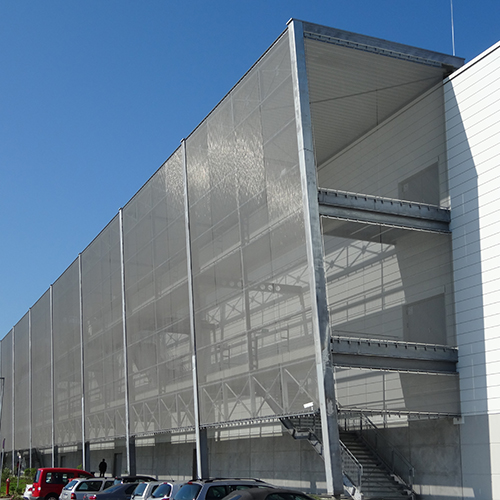 ---
---
Description
The upstreamed wire mesh façade, made of architectural mesh DOKAWELL-MONO 3601, covers the escape routes, which are relocated from the inside to the outside of the building. The metal mesh is not only visually appealing. It also acts as fall protection.
Weave type DOKAWELL-MONO has a unique elegance. When combined with complementary lighting the crimped wires produce shimmering light reflections, creating a magnificent, sparkling surface.
In total, 1960 m² of W.S. Tyler Architectural Mesh were installed at the façade.