Parking Massy
---
Façade cladding with W.S. Tyler Architectural Mesh DOGLA-TRIO 1011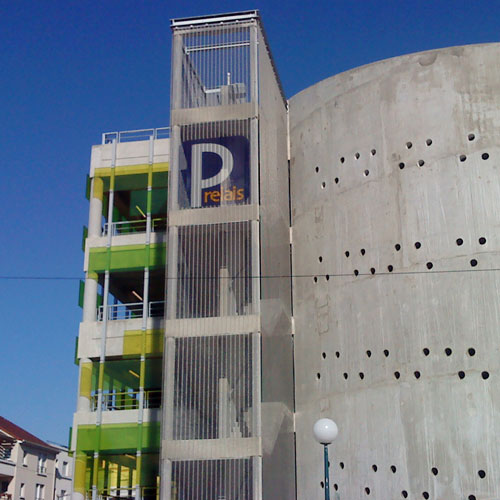 ---
---
Description
The escape staircase of the newly built parking garage in the French town of Massy received a mesh façade from W.S. Tyler.
The mesh type DOGLA-TRIO is a very robust specification due to the special crimps, which increase the stability of the mesh significantly. Due to the high transparency of the mesh, resulting from an open area of 66%, the cladding appears filigree and translucent. As a result, the staircase is flooded with natural light.
The wire mesh elements, with the dimensions of 14.5 m height and 2.7 m width, are tensioned over the entire height of the escape staircase with the proven mounting system of W.S. Tyler. An eye-catcher is the painted logo in the upper third part of the stair tower.