Ohio State University – Parking Garage
---
Façade design with MULTI-BARRETTE 8301
"The quality, craftmanship and dedication to details made the exterior stainless steel mesh skin garage standout as a great project." Gilbane Construction Company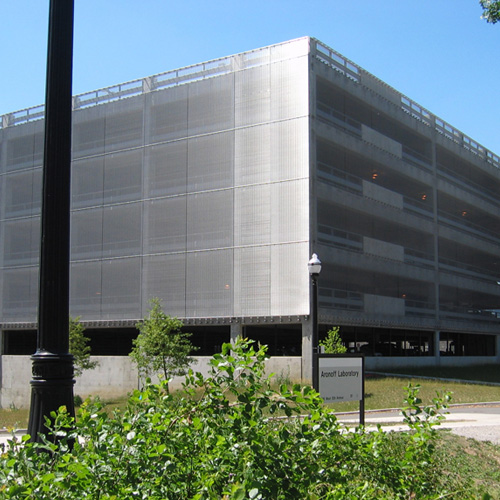 ---
---
Description
In November 2004 – for the first time in the USA – W.S. Tyler covered a façade of a parking garage.
The "Neil Avenue Parking Garage" with 983 spots is the latest construction project at The Ohio State University in Columbus, Ohio. Approximately 40,000 square feet of our MULTI-BARRETTE mesh now offer gloss and security to the building.
Wire cloth will become transparent with illumination from the back.
The architectural concept for this parking garage was first designed by Antoine Predock, New Mexico, who complemented the look of the parking garage with the attached Larkins Hall. The technical realization and the final designs were done by Moody Nolan in Columbus.