Hibernia Tower Parking Garage
---
Car park cladding with W.S. Tyler Architectural Mesh EGLA-TWIN 4243
The completed car park offers 144 parking spaces for the commercial and residential tenants of the adjacent Hibernia Tower Building in the Central Business District of New Orleans.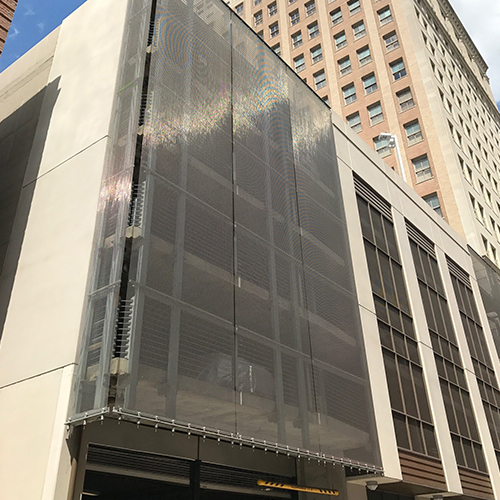 ---
---
Description
The architects from HCI Architecture have used W.S. Tyler Architectural Mesh for the façade cladding of the parking structure. The stainless steel mesh EGLA-TWIN 4243, with an open area of 57%, is characterized by its smooth flat surface on one side, which reflects light homogenously.
The wire mesh façade protects against external weather conditions while offering a high degree of transparency and optimal ventilation of the parking garage. In addition to its transparency, ventilation, and aesthetics, mesh is a favorable choice for parking due to its cost-effective installation and the long lifespan of stainless steel.
The wire mesh elements with a dimension of 12 m height and 2.70 m width were assembled by W.S. Tyler and supplied with the complete fastening technology, consisting of tension profiles, clevis bolts, and pressure springs.