Ice Hockey Stadium, Bratislava
---
Brilliant ceiling design with DOGLA-TRIO 1011
The Ondrej Nepela Arena is a ice hockey stadium in the Slovak capital Bratislava. It stands at the corner Trnavská cesta and ulica Odbojárov, northeast of the historic center in the town district of Nové Mesto.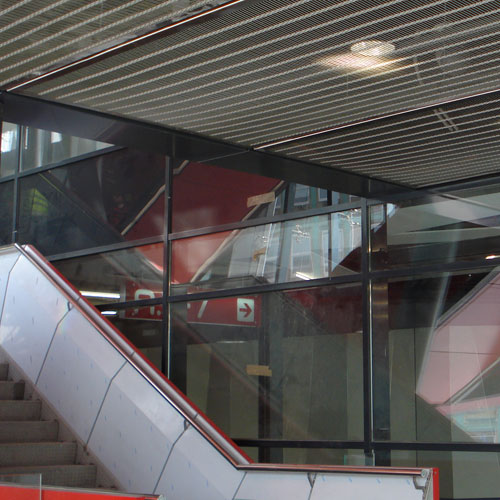 ---
---
Description
The stadium was named Orange Arena for the 75th Ice Hockey World Championship 2011 from 29 April 2011 to 15 May 2011. The second venue for the 2011 World Championship was the Steel Aréna in Košice.
The stadium was constructed from April 2009 to February 2011. It sits besides a subterranean car park with 300 places and two training halls. The stadium seats 10,000.
In preparations for the World Championships, the wire mesh DOGLA-TRIO 1011 from W.S. Tyler was used for the ceiling at the Ondrej Nepela Arena.
W.S. Tyler Architectural Mesh DOGLA-TRIO 1011 is ideal for cladding technical installations due to its semi-transparency. Due to its wire thickness and woven structure, it is a very stable wire mesh and robust enough to keep mechanical influences away from the technology above. It appears almost closed when viewed from the side because of the mesh structure and flat viewing angle. With an open area of approximately 66%, it also guarantees the perfect functioning of technical systems.
In total, W.S. Tyler delivered 350 m² of architecture wire mesh for the project.