Paffenthal Bridge
---
Bridge cladding with W.S. Tyler Architectural Mesh MULTI-BARRETTE 8123
A 70m high glass lift system with a self-supporting bridge connects the Luxembourg district Pfaffenthal with the Parc Pescatore. For this pedestrian bridge, the architects of Steinmetzdemeyer architectes urbanistes used W.S. Tyler Architectural Mesh as ceiling and façade cladding.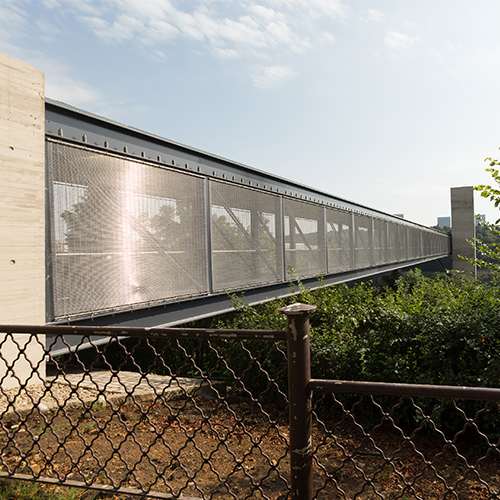 ---
Gallery
© Levygraphie – CDCL
---
Description
Since stainless-steel mesh MULTI-BARRETTE 8123 can be used as fall protection, further railings are not required inside the bridge. Cable mesh MULTI-BARRETTE shines with a special elegance. The woven cables give flexibility and structure to the mesh, while the rods provide stability and create homogenous reflections. Stainless-steel wire mesh is maintenance-friendly, maintenance-free, non-flammable, and translucent due to its semi-transparency, so that additional light sources are not necessary during daytime. In addition, due to its open area of 64%, the cable mesh MULTI-BARRETTE 8123 allows an undisturbed view of the Kirchberg and Pfaffenthal.
W.S. Tyler supplied ready-to-install wire mesh elements with mounting system consisting of round bars, eyes bolts, and pressure springs.