LSBU Keyworth II
---
Façade cladding with W.S. Tyler Architectural Mesh MULTI-BARRETTE 8159
"Keyworth II is a new academic building for London South Bank University that renews the identity of the University whilst creating a more coherent campus. The design reflects the University's aspiration for the building to be open and accessible. It is intended that the quality of the design and striking form of the building will create a positive image for London South Bank University as a whole, attracting new staff and students to the institution." - Grimshaw Architects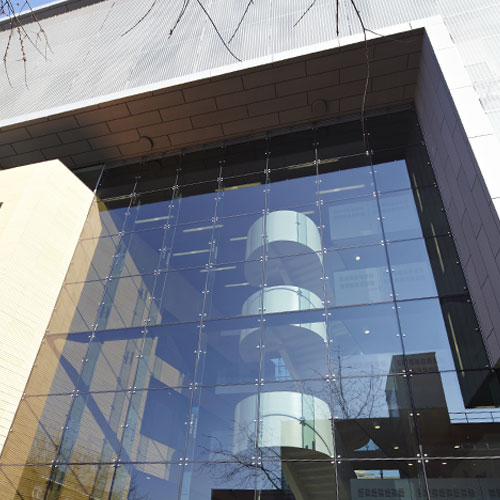 ---
Gallery
Photos Courtesy of E.A.G. - English Architectural Glazing
---
Description
London South Bank University is one of the largest and oldest universities in London. With over 25,000 students, it is based in the London Borough of Southwark, near the South Bank of the River Thames.
In co-operation with the London Strategic Health Authority, the university has been expanded with the eight-story Keyworth II building. Situated between Keyworth Centre and Learning Resources Centre, Keyworth ll is home to the Faculty of Health & Social Care, as well as the Department of Education.
After a very detailed material study, the architect chose W.S. Tyler weave type MULTI-BARRETTE to provide solar shading to the southwest elevation of the Keyworth ll building.
W.S. Tyler produced an individual architectural wire mesh, designed specifically to meet the technical requirements of the architect and owner. To increase the effectiveness of sun protection, standard weave type MULTI-BARRETTE 8301 was modified by weaving the horizontal rods closer together. The resulting special mesh type, MULTI-BARRETTE 8159, allows good light refraction while creating a bright, pleasant atmosphere behind the façade.
Overall, the façade consists of 3 m wide wire mesh elements with differing heights of between 12 m and 24 m. The elements have been mounted using the proven system of integrated round bars and eyebolts, as well as pendular clips for the intermediate fixing.
In total, W.S. Tyler supplied 1,140 m² of mesh in ready-to-install panels, including mounting brackets.