Hôtel de la Communauté de Mourenx
---
Canopies and façade design with EGLA-MONO
Gilles Bouchez Architecture redesigned the atrium of the French hotel, Hôtel de la Communauté de Mourenx, with the architectural wire meshes EGLA-MONO 4391 and EGLA-MONO 4211 from W.S. Tyler.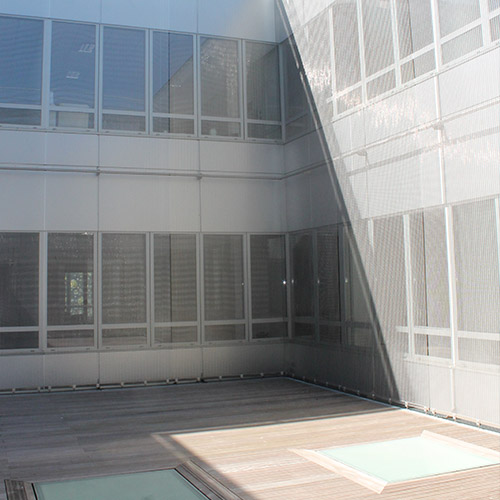 ---
---
Description
The flat surface on one side of the wire mesh EGLA-MONO creates a reflection across the full plane on the façade. Due to the rectangular opening and the special crimps lend the wire mesh got a good stability.
The wire mesh cladding should not only enhance the outdoor area of the atrium, it should also act as an effective sunscreen. Due to its open area, the semi-transparent, stainless-steel wire meshes are suitable as effective sunscreens. The woven wire mesh can be utilized to filter sunrays, reduce heat gain within the building, and create a comfortable, light internal climate.